Before anything I didn't get paid to do this and this is not a sponsored review whatsoever. I've genuinely made a review from my personal point of view about this product. Without further do, let's begin.

When I started with digital painting I first used a mouse, crazy right? Yeah, I know, it's not the best way of doing digital art at all but is what I had at the moment. After a few months I heard about something called a graphic tablet which was basically a device that can digitize what you draw/paint with a stylus pen.  That sounded so cool and I decided to go deeper in the digital painting world. My very first tablet was a Genius one and I frankly don't remember the exact reference. It was big, kind of ugly, but you know what? I really didn't care because I was drawing and painting digitally at last!
After that I bought my first Wacom, it was a bamboo that I still have as a temporary replacement just in case. Something that I've missed throughout these years of working as an artist is that I was not feeling that traditional essence when I was drawing/painting, because I was just looking at the screen and synchronizing my hand with my eyes to be able to paint. That's when I decided to look after a close experience of painting traditionally but digitally. And I found the amazing drawing monitors, which are what I was exactly looking for. Since I had a good experience with Wacom  I decided to look for a drawing monitor to buy. 
My mouth was literally open when I found out that the CHEAPEST one was over one thousand dollars. And as an adult with taxes, rent, student loans to pay (Childhood, please come back), It was a crazy amount of money to spend and I hate to get into credits where you end up paying triple the price of the product. So I decided to continue with my old and reliable friend, my Bamboo. It was just a month ago when a friend of mine told me about much cheaper alternatives, he mentioned Huion, XP-Pen, Gaomon and finally Parblo. I was searching through the vast site of Amazon and found an incredible price for an actual drawing monitor called Parblo Mast 10. Before buying it, I looked at other reviews and what people thought about the product because getting a monitor of $300 almost the same size as one worth more than $1000 felt like was something fishy behind it.
As an innate curious person I decided to give it a shot and ordered it. And I finally have it in my hands and have been working on it for about a week, so leaving behind all that previous little story of my life, before you start throwing rocks at me to begin the freaking review I'm going to start this time for real.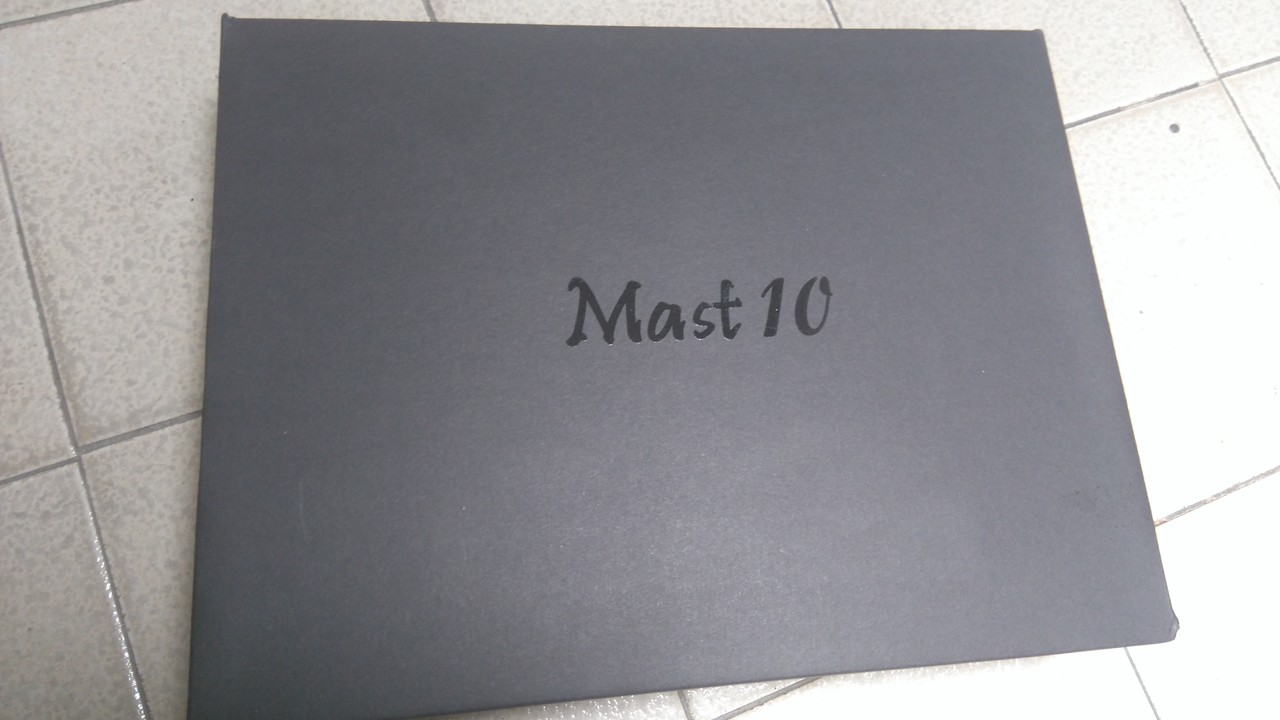 The first thing I saw was this beautiful and elegant black box. It was actually packaged into another box, but it seems that guys at Amazon are so careful that it was almost destroyed when it arrived, so I decided to just show the box that came inside. After carefully unboxing everything, this is what I got from this beautiful black box.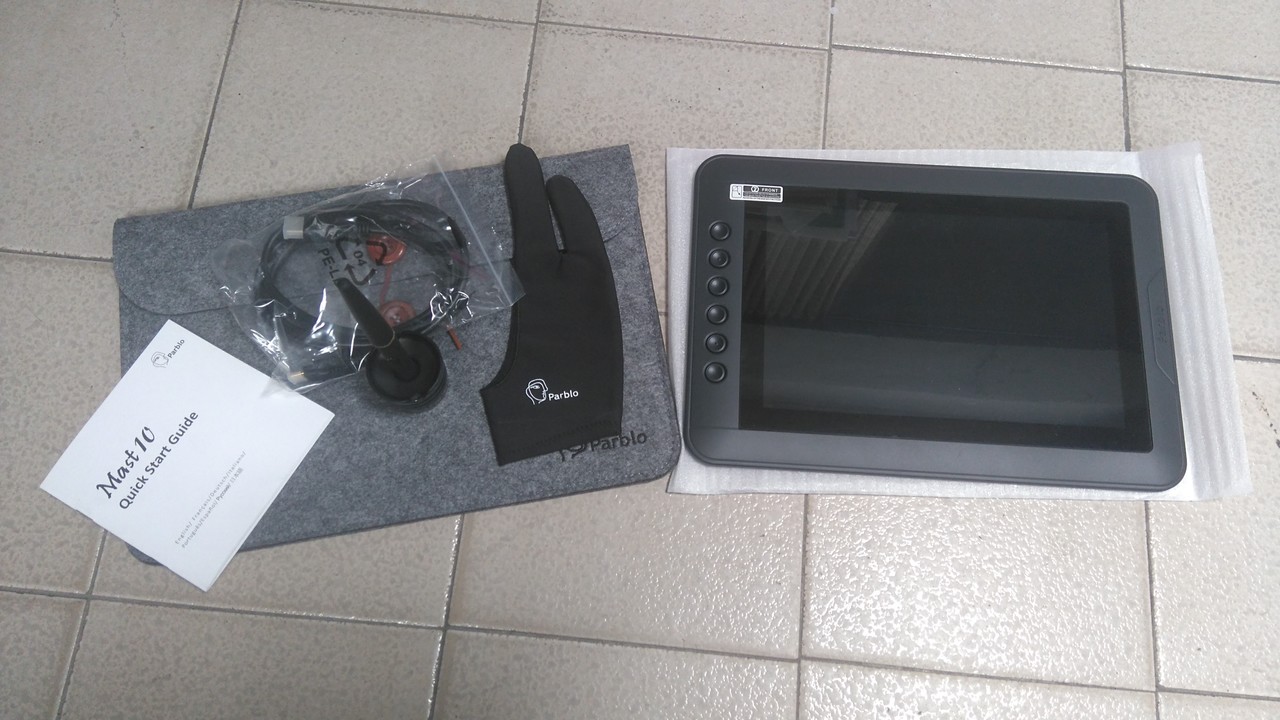 It included, the drawing monitor (duh), a cool bag to store it, a bag for the pen, the pen (duh), a cool and useful two-finger glove. A pen stand with nib remover and extra nibs and of course the cables to connect it to the computer.
I'm not going to lie that I was hesitant to buy this one because according to the previous mentioned reviews from other people, setting this thing up was literally a pain in the a**. Some of them didn't even got to try it because it just won't work. I think Parblo answered to the prayers of those poor souls, because it was actually so easy to set up that even a kid could do it. I just connected it to the USB port that is necessary for both, the computer to recognize it and as power supply. Yes, you don't need to connect it to a power source or anything, just the computer power is sufficient. And the other connection was the HDMI cable from the computer graphics card to the Parblo tablet and that's it. Then I just downloaded the driver from the official website and boom!, after the restart it was working like a charm. Well, not literally, you still have to tweak some things like the monitor colors, brightness, and the calibration so there's as little parallax as possible with the pen.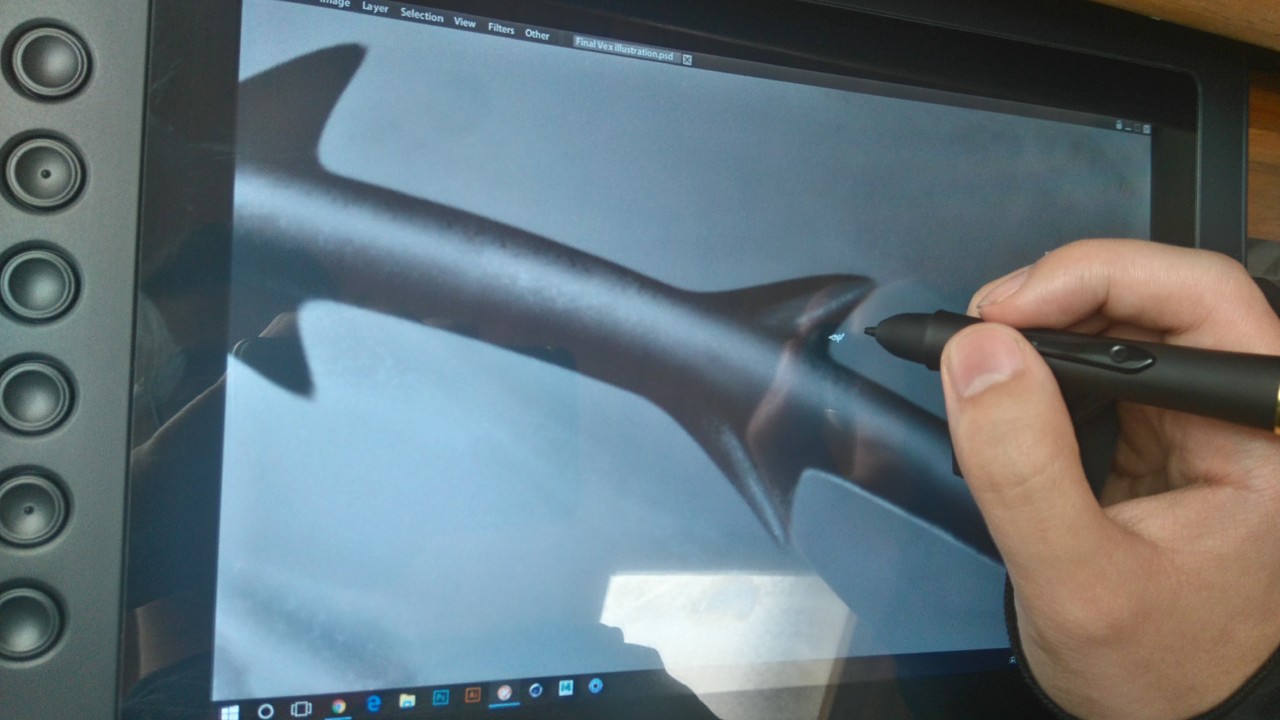 After everything was set up, it was time to paint! And I must confess I'm in love with this thing!, and I will give you my honest opinion with Pros and Cons.
PROS:
Extremely cheap, it was just $300 which is a much more affordable price.
It works without any kind of extra power source, you just need to connect it via USB and you're done.
The pen is very light and has a good pressure sensitivity.
Even after hours of working it was just slightly warmer, so you'll not have any overheat problems with this thing.
It has express keys and can be set up for right or left handed users. (I don't really care that much about it since I use the keyboard anyway).
Very light and elegant design.
CONS:
It has nothing to support it in case you need to work in a certain angle. I had to improvise and use it on my legs, with the computer table as support, is not very orthodox but it works.
It has a little bit of lag when you're painting.
The pen doesn't recognize tilt, but for the price I thing is not a big deal.
So, the most important part, is it actually worth it as a cheaper alternative? Yes, it is, no doubt of it, this thing is very good. But is it better and a cintiq? Nope, cintiqs are the epitome of quality to what drawing monitors is concerned. So, if you have the money to buy a cintiq just go for it, but if you look for a pretty decent alternative then I totally recommend the Parblo Mast 10 to you. They actually have bigger monitors in case you think 10 inches is too small.
And that's how we come to the end of this c̶r̶a̶p̶p̶y review, I hope you guys find it useful and good luck!